• locket • military jewelry • sweetheart jewelry • trench art • vintage jewelry • ww2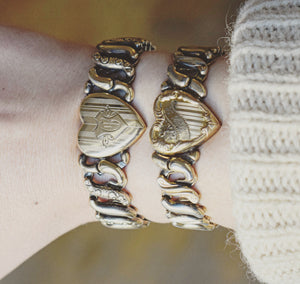 If you come across an old locket or pendant with a military emblem or designation such as 'mother' or 'wife' it is probably an example of WWII sweetheart jewelry. Sweetheart collectibles are items that were purchased by military servicemen and sent home to the ladies in their life. These items included compacts, handkerchiefs, pillow cases, as well as jewelry. 
---
• antique jewelry • gold • gold fill • gold filled jewelry • gold tone jewelry • jewelery • solid gold jewelry • vintage jewelry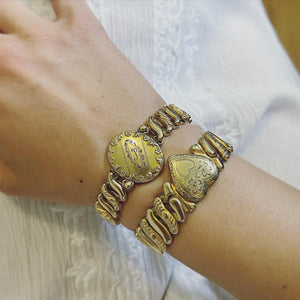 While shopping online for vintage or antique jewelry, you may come across items described as "gold filled," "gold plated,"or "gold tone." We may all be familiar with solid gold, silver, and platinum, but there are some metals used in the past that many modern consumers my not know much about. In most cases, these alternative metals were used as ways to reduce costs and jewelry prices during times of strife or for those who could not afford real metals. Today, gold filled or plated metal is a great way to begin collecting jewelry because of its' lower cost. What is Gold Filled Metal?Gold Filled...