Antique Jewelry Information
• antique jewelry • dating jewelry • Egyptian jewelry • Egyptian revival • Egyptian revival jewelry • king tut • king tutankhamun • scarab jewelry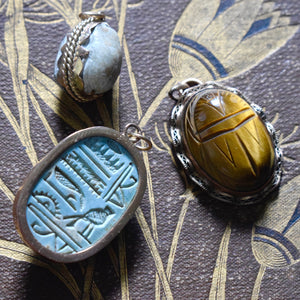 From the Great Pyramids of Giza to the treasures of Tutankhamun, there has always been a fascination with the mystical land that is Egypt. The ancient Egyptians were the first civilization to develop an extensive jewelry industry. Jewelry was an essential part of Ancient Egyptian culture. It was used as currency, to identify the wearer's status and religious beliefs, and was made from precious metals and stones. Their jewelry was worn for religious and political reasons as well as for personal adornment.    Egyptian Revival jewelry was inspired by the jewelry and architecture of ancient Egypt. The designs were created...
---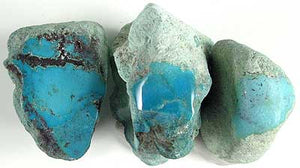 TURQUOISE HISTORY AND MYTHOLOGY The Turquoise stone has been used for longer, and across more cultures than almost any other gemstone. It was first used by the Ancient Egyptians, who began mining the stone in 3200 B.C. The name turquoise is derived from the French 'pierre turquoise', meaning 'Turkish stone.' Although the stones were first mined in central Asia, they reached Europe via the bazaars of Turkey. Raw Turquoise via TurquoiseNews.com Across cultures, turquoise has been fashioned into a variety of objects from weapons to amulets. The Navajos used turquoise to bring much needed rain by throwing a stone into a...
---
• locket • military jewelry • sweetheart jewelry • trench art • vintage jewelry • ww2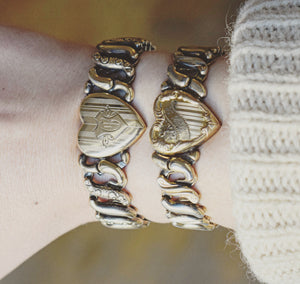 If you come across an old locket or pendant with a military emblem or designation such as 'mother' or 'wife' it is probably an example of WWII sweetheart jewelry. Sweetheart collectibles are items that were purchased by military servicemen and sent home to the ladies in their life. These items included compacts, handkerchiefs, pillow cases, as well as jewelry. 
---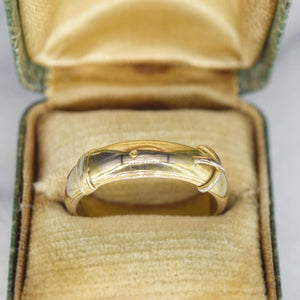 As a collector of vintage and antique jewelry, one of the motifs you will most often find (and in many different forms) is the Buckle or Garter. In Victorian jewelry, garters can be found as the frame on a cameo brooch or enameled onto the cover design of a locket. Victorians also loved wearing ring bands in the shape of garters. These rings were often given as romantic gifts. Brooches were made to look like buckles that attached to nothing. Perhaps the most popular use of the buckle motif was the Buckle bangle bracelet. These were made in solid gold or silver as...
---
• brooch • dating jewelry • vintage jewelry identification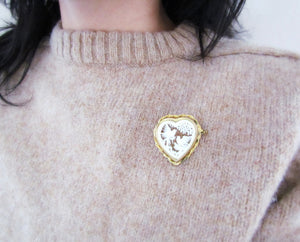 Not sure if your brooch is an antique, vintage, or a more modern piece? Here is a helpful guide to dating brooches. It's all about the back…Looking at the clasp, pin, and hinge is the easiest and most accurate way to date a brooch.Tip: Make sure when purchasing an antique brooch online to make sure you view a photo of the back. If one is not provided, ask the seller to provide one.   THE T-BAR PIN AND C-CLASP T-bar pins and c-clasps were used predominately through the Victorian era. The pins on brooches from this era were usually really...