• antique jewelry • dating jewelry • Egyptian jewelry • Egyptian revival • Egyptian revival jewelry • king tut • king tutankhamun • scarab jewelry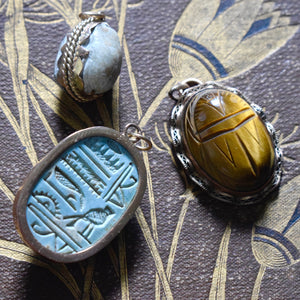 From the Great Pyramids of Giza to the treasures of Tutankhamun, there has always been a fascination with the mystical land that is Egypt. The ancient Egyptians were the first civilization to develop an extensive jewelry industry. Jewelry was an essential part of Ancient Egyptian culture. It was used as currency, to identify the wearer's status and religious beliefs, and was made from precious metals and stones. Their jewelry was worn for religious and political reasons as well as for personal adornment.    Egyptian Revival jewelry was inspired by the jewelry and architecture of ancient Egypt. The designs were created...
---
• brooch • dating jewelry • vintage jewelry identification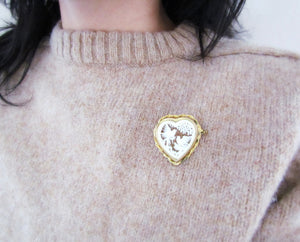 Not sure if your brooch is an antique, vintage, or a more modern piece? Here is a helpful guide to dating brooches. It's all about the back…Looking at the clasp, pin, and hinge is the easiest and most accurate way to date a brooch.Tip: Make sure when purchasing an antique brooch online to make sure you view a photo of the back. If one is not provided, ask the seller to provide one.   THE T-BAR PIN AND C-CLASP T-bar pins and c-clasps were used predominately through the Victorian era. The pins on brooches from this era were usually really...