• antique jewelry • dating jewelry • Egyptian jewelry • Egyptian revival • Egyptian revival jewelry • king tut • king tutankhamun • scarab jewelry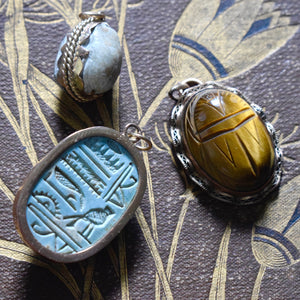 From the Great Pyramids of Giza to the treasures of Tutankhamun, there has always been a fascination with the mystical land that is Egypt. The ancient Egyptians were the first civilization to develop an extensive jewelry industry. Jewelry was an essential part of Ancient Egyptian culture. It was used as currency, to identify the wearer's status and religious beliefs, and was made from precious metals and stones. Their jewelry was worn for religious and political reasons as well as for personal adornment.    Egyptian Revival jewelry was inspired by the jewelry and architecture of ancient Egypt. The designs were created...
---
• antique jewelry • victorian baby ring • victorian jewelry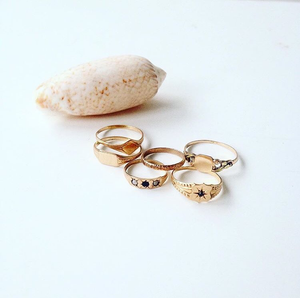 Children wore many styles of jewelry during the Victorian era. According to Morning Glory Collects "Coral beads, silver lockets, bead necklaces and little bracelets all were popular. Coral was thought to ward off ill health so even babies wore small beaded necklaces and bracelets of coral. "While it might not be a popular daily practice in modern times, some parents still dress their children in jewelry for special occasions. via @jeandahlia As for us adults, jewelry collectors have thought of a few clever ways to wear these tiny pieces in a modern way. Baby Ring Charm Necklace A single, or collection of baby...
---
• antique jewelry • gold • gold fill • gold filled jewelry • gold tone jewelry • jewelery • solid gold jewelry • vintage jewelry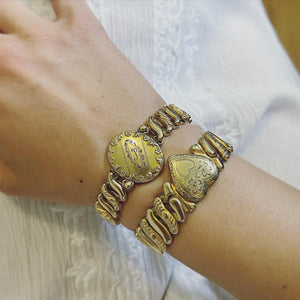 While shopping online for vintage or antique jewelry, you may come across items described as "gold filled," "gold plated,"or "gold tone." We may all be familiar with solid gold, silver, and platinum, but there are some metals used in the past that many modern consumers my not know much about. In most cases, these alternative metals were used as ways to reduce costs and jewelry prices during times of strife or for those who could not afford real metals. Today, gold filled or plated metal is a great way to begin collecting jewelry because of its' lower cost. What is Gold Filled Metal?Gold Filled...